Panera Bread
SMALL BATCH BAKERY
Located on the Yale campus, this new concept store features bakery items served individually and in small batches – hot and fresh right from the oven. From logo to menu design our goal was to give this a small batch, crafted feel while maintaining the Panera brand that we all know and love. Thanks to Matt Hulsman at dcubestudios for our beautiful photography. Photo shoots were the tastiest!
Brand Identity, Logo Design, Menu Panels, Handheld Menus, Environmental Graphics, Point of Sale, Packaging, Uniforms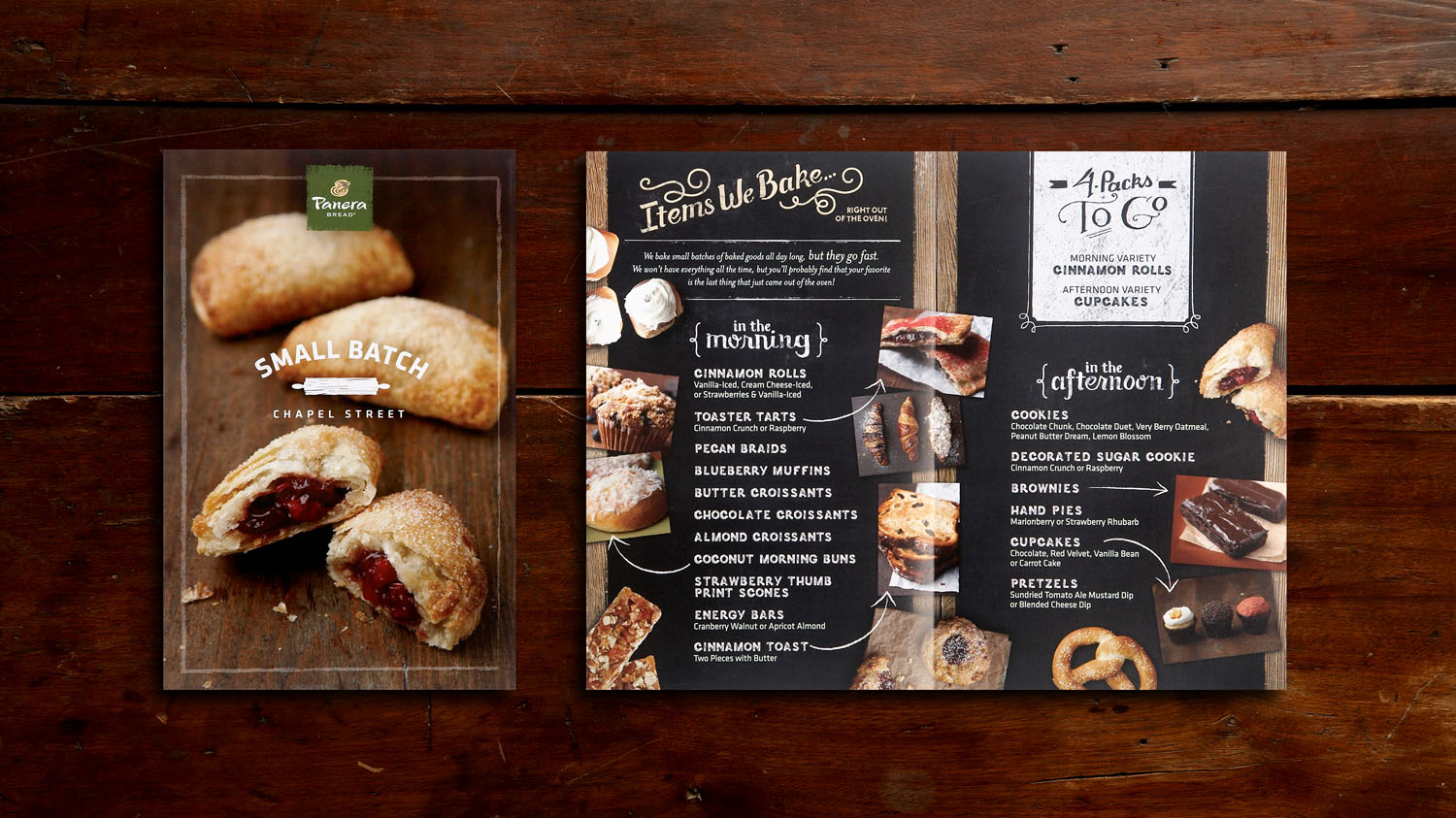 PACKAGING
As part of Panera's packaging refresh we were asked to explore new packaging as Panera moves forward with their new food policy to clean up their foods – "Food As It Should Be". Along with the clean foods initiative they were looking to improve upon the current graphics to feel more on brand. The goal was to have a craft feel, functional with clean and minimal design. Ink coverage and number of colors were kept to a minimum.
Package Design
TAKE OUT & DELIVERY CAFE
Panera Bread's first take out & delivery cafe. This test involved exploration of environmental design, logotype, signage, promotional materials and online menu design.
Environmental, Logotype, Uniform, Vehicle, Promotional Materials, Digital
BAKERS RESERVE BATCH
This offer was to promote the use of locally sourced whole wheat flour. A limited batch of NY State wheat bread was enjoyed exclusively by MyPanera customers. Through an email marketing campaign each customer was invited to be a part of this special offer. They received their bread in a custom designed bread bag and reusable canvas tote that featured the Bakers Reserve Batch mark created specifically for this promotion.
Logo, Packaging, Collateral, Digital
PRODUCT TESTS
As new offerings are introduced they are first tested in a small market. This Chicken Sorrentina test is one of many. Shown here are the countertop organizer and discovery panel. Typically these two pieces along with the greeter stand, banner and menu panels are included in each test.
Environmental, Point of Sale, Menu Panels
ART LIBRARY
The following collection is part of an art refresh to replace existing pieces hanging in the cafes. We were thrilled to be part of this initiative! A total of 40 pieces were created within the year.
Illustration